Congressman Mike Gallagher visited MCL Industries on Monday, August 21 to meet with employees and speak about ongoing policy deliberations in Congress and how they affect local manufacturers.
Rep. Gallagher met with MCL leaders and employees during an I Make America event. I Make America is the national grassroots campaign of the Association of Equipment Manufacturers (AEM). MCL is a member of the trade association, which represents manufacturers of heavy equipment.
The event began with a tour of MCL's 100,000-square-foot facility. During the tour, Rep. Gallagher interacted with MCL employees and stopped for a few photo opportunities. The tour concluded in the break room, where AEM Senior Director of Government & Industry Relations Nick Tindall made a few remarks.
"We were excited to bring the I Make America campaign to MCL Industries to salute the jobs supported by this tremendous manufacturer, and the products they build right here in Pulaski," said Tindall. "We're glad that Congressman Gallagher joined MCL Industries employees to talk about how we can work together to support growth and job creation in the equipment manufacturing industry."
MCL President Paul Knoll followed that up with some manufacturing statistics and thanked AEM for bringing I Make America to MCL Industries.
"Eighty-four percent of Wisconsin's output comes through the manufacturing sector. So that's key to us, our neighbors, and everything we do at MCL, along with our customers and suppliers," Knoll said. "Manufacturing is what drives Wisconsin and we're proud to partner with AEM in supporting our industry."
To conclude the event, Rep. Gallagher gave an overview of his first few months in office and touched on the manufacturing economy before taking questions from MCL employees.
Rep. Gallagher said, "MCL Industries is a great Northeast Wisconsin manufacturer whose innovative products and solutions support over 100,000 Wisconsin jobs and contribute over $11 billion to the economy." He continued, "In Congress, I will continue to be a strong advocate of policies that spur economic growth and make it easier, not harder for manufacturers in Northeast Wisconsin and across the country to prosper."
During the Q&A, Rep. Gallagher answered questions on topics including immigration, health care costs, job creation, national security and term limits.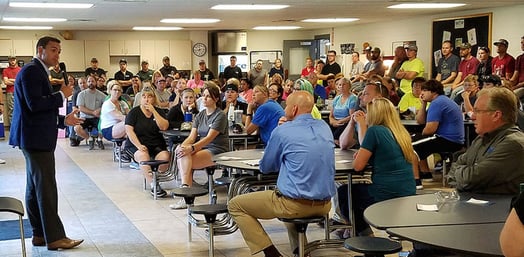 The I Make America campaign is a nationwide grassroots campaign to encourage equipment manufacturers and their employees to take action on behalf of industry issues. The campaign is in its sixth year and has over 40,000 grassroots supporters. Learn more about the campaign at IMakeAmerica.com.