This is the second post in a three-part series, focused on analyzing risk vs. cost when deciding whether to outsource electrical and mechanical assemblies to a contract manufacturer.
Designing a new product or new product feature can be extremely complex, especially when it comes to choosing the components and structuring the BOM (bill of materials). Although details like this may seem insignificant, they can pave the way to simplified parts purchasing and uninterrupted production when given the proper attention early in the design process.
Whether planning to outsource an assembly or not, an organization should carefully consider component selection and BOM structure to help avoid supply chain and production delays.
Component Selection
Component selection can be simplified by specifying a general part with the functional needs and features spelled out. For example, if your design requires a connection to be wrapped in electrical tape, simply specify the width and color the tape needs to be.
Calling out a brand of electrical tape is only necessary if that brand fulfills a specific design need that other brands don't. Specifying an exact brand or part number of a component on the drawing can cause headaches for your supply chain partners and your design team. It can impact cost and availability, leaving supply chain partners without alternative options.
What if the manufacturer of that exact part stops making it or changes the part number? Your design team has to go back and revise the drawing to exclude or change that specification. If, however, you call out a stainless steel fastener with a Phillips head that is two inches long, your supply chain has the flexibility to get you the highest quality part that fits those parameters at the lowest cost. Additionally, if that particular part is discontinued in the future, your design team doesn't need to be involved in finding a replacement part; you've already given your supply chain partners the flexibility to do that on their own by simplifying your component selection.
However, if your design team feels strongly about using a specific component, it can be added to the drawing but should be followed by "or equivalent." This tiny phrase gives supply chain and contract manufacturing partners the power to switch out the part if it becomes expensive or unavailable.
BOM Structure
Structuring your BOM is a lot like making a grocery list. You could write everything down as you think of it, or you can organize it based on which route you'll take through the store, grouping items in the same aisle together. Neither method is wrong, but one method is more effective (even if it requires a bit more planning). In the assembly world, the more effective method involves creating a multi-level BOM showing the parent/child assemblies.
For example, an electrical control box may be one part number, but the box is made up of metalwork, a wire harness, a PCB, a pendant, and several switches. The electrical control box part number (parent) should be listed first, followed by the subassembly component part numbers within the box (children), each broken out with individual part numbers (see multi-level BOM below). Depending on the software your company uses, a multi-level BOM could also be interactive, allowing you to show/hide children assemblies using plus/minus signs.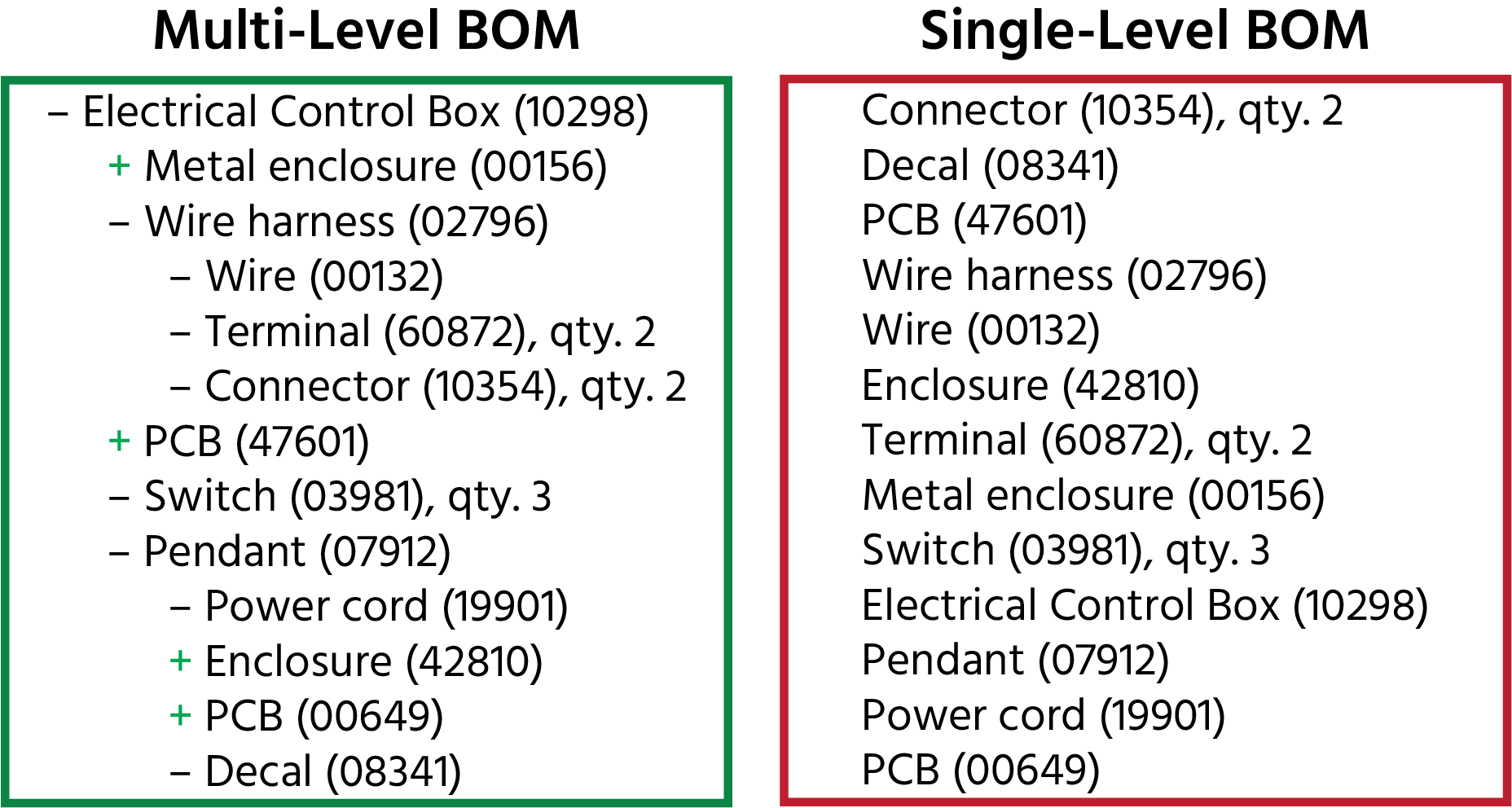 Furthermore, the BOM structure should match the way your team buys the parts. If an equipment user runs over the pendant in the example above, it would be much easier to replace just the pendant if it's broken out on the BOM as a child of the parent assembly (electrical control box). If the BOM is a flat list of components (single-level BOM above), it can be difficult to figure out which parts to order so you can build a new pendant.
Analyzing the Risk vs. Cost of Thoughtful Component Selection and BOM Structure
If you're working on a new design, paying attention to component selection and BOM structure will help your organization avoid lost production time and reduced profitability. At this stage of the design, you may want to look to a contract manufacturing partner that can help with component selection and BOM structure, making it simpler to order parts and build the assembly. They'll also have a general idea about component stocking, pricing, availability, and lead time to help circumvent further supply chain and production headaches.
For even more insights on electrical design, read 8 Questions to Ask Before Designing an Electrical Assembly for Heavy Duty Vehicles. Click the button below to download your copy today.