The Village
We are much more than MCL - we are a member of "The Village"
Are you intrigued? MCL is one of eight companies/organizations that have common ownership. While MCL's roots date back to 1979, our entrepreneurial shareholders have added 7 additional members into a collection we call "The Village." The organizations represent three different fields of expertise: manufacturing, innovation and community involvement.
Manufacturing

Innovation

Zymo Interactive is a custom mobile product development studio in Green Bay, WI
Innovate 44 will work with entrepreneurs to bring their ideas to life and develop new products
Community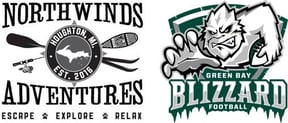 Northwinds Adventures is a place to explore, lodge and relax in Houghton, MI and can also host group events and team bonding experiences
Green Bay Blizzard is a professional indoor football team based in Green Bay, WI
The Benefits of Working Together
The ecclectic nature of "The Village" helps its members in three ways
By working together on our continuous improvement, we can share resources. These resources include our people, our collective financial strength, and our facilities. As we continue to do this, we gain economic synergies and, most importantly, create additional capacity for us to grow.
The second is to collectively discover and share best practices. By using the talented people from each of our organizations, who have different backgrounds and education, we can create the best solutions to master our challenges and capitalize on our opportunities. These best practices can then be shared with all who may benefit including our people, our Village members, our customers, suppliers, and our communities.
Third, and by far the most important, is we create the opportunity to dream together about what could be next for our individual organizations or the Village as a whole. We dare to explore together things that wouldn't even enter our minds if we were working independently. It may be pursuing a large opportunity presented to us by a customer that would take a Village to accomplish. It could be acquiring or starting another business that makes great sense if we do it together. It could be something great for our community. The possibilities are seemingly endless.
As we continue together as a Village, we are very confident that we will achieve:
Greater financial strength to grow during good times and weather any difficult times
Greater capacity in our workforce, equipment, and facilities
Greater career opportunities and financial rewards for our people
More ways for our communities to benefit from our successes
Attracting new people wishing to join us, therefore creating more impactful opportunities for our communities
Most of all, it gives our talented, hardworking and passionate people the ability to dream of what would be and to be courageous enough to make those dreams come true
MCL's association with "The Village" increases our ability to be a world class supplier while continuing to grow.