Here are some statistics with which many production managers are painfully familiar: Within the next 10 years, 2.7 million manufacturing employees are slated to retire. The number of workers qualified to replace those exiting the workforce — and also fill newly created manufacturing jobs — falls short by a staggering 2 million.
An impending deficit of this magnitude further ramps up existing industry competition for skilled labor, making it imperative for your company to stay ahead of the hiring curve. Failing to fill vacancies in your facility could adversely affect your business through process inefficiencies and delays, increased safety risks and the possibility of not meeting customer expectations.
The question, then, becomes how to retain your existing employees and attract the best and brightest replacements from the shrinking number of skilled laborers available. To differentiate your company from other manufacturers vying for qualified candidates, the key is proactivity. Work with your human resources staff to develop a recruiting plan that includes non-traditional tactics that showcase appealing benefits — referral bonuses, flexible work schedules, etc. — and also engage would-be workers online. Here's how:
Get Connected
Use social media. A current and active Facebook page, for example, gives people a glimpse into your corporate culture. It's also an ideal way to get the word out about open positions, since connections can easily access the postings or share them with friends who may be interested in applying. Here are some examples of MCL's recent Facebook posts: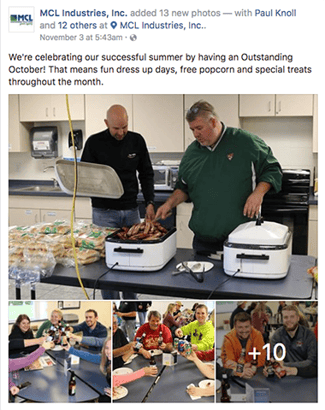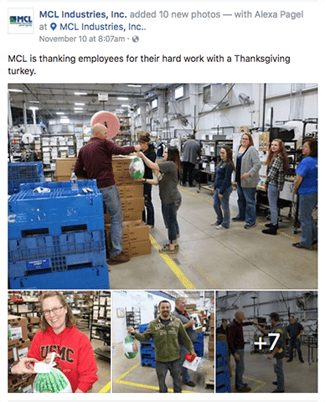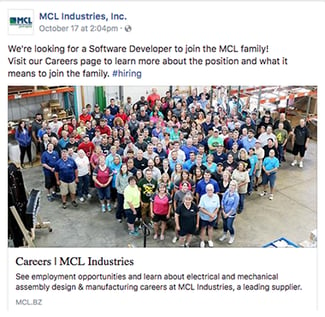 Demonstrate your interest in "good fit" candidates. Don't be afraid to scour professional platforms like LinkedIn and approach well-qualified people about job opportunities that fit their skill sets. Even if they aren't actively looking for work, reaching out in a personal way — like through a short message — shows that you're interested in them, not just filling the job, and you just might pique their interest.
Don't Overlook Incentives
Leveraging social media is an effective hiring tool, but relying on it solely could mean neglecting developing existing talent or encouraging new hires. Re-think what you offer in educational opportunities, like:
Co-ops and internships. Reach out to local vocational schools and universities to establish part-time programs that reinvigorate interest in the skilled trades and teach techniques and critical thinking skills desired for your workers. Interns can benefit from in-shop and in-class exposure, and be better prepared to step into full-time positions.
Tuition assistance. Don't limit educational opportunities to new hires. Give established employees incentive to continue their education by investing in them. Provide tuition assistance for them to pursue job-related degrees, training or certifications with the clearly communicated expectation that anyone using the benefit remains with your company for a certain period of time after reaching their educational goal. It's a win-win. Employees feel valued, and the company benefits from their advanced training.
Consider Contract Manufacturing
Ramping up hiring practices is critical for manufacturers looking to minimize the impact of the hiring crisis, but filling job openings takes careful consideration and selection of candidates — and that takes time.
How do you handle production that must occur in the meantime? By outsourcing your electrical and mechanical assemblies to a trusted contract manufacturing partner. Doing so not only helps alleviate hiring pressure, it also:
Saves time: The assemblies can be immediately and fully installed into heavy duty equipment on the production line
Mitigates risk: When assembly production is outsourced, the contract partner is held responsible for rectifying potential issues. A good partner, however, will conduct ongoing performance tests throughout production and verify that products are working properly before they leave the facility
Improves ROI: Outsourcing minimizes a number of costs related to electrical and mechanical assembly production, not just raw materials and labor. By working with a contract manufacturing partner, OEMs no longer shoulder the expense of buying and maintaining equipment and technologies, devoting floor space to large assemblies, material handling, inventory storage and related overhead like increased utility usage
MCL is dedicated to helping manufacturers work efficiently and cost-effectively, and we've helped many successfully navigate the repercussions of everything from labor shortages to building complex electrical and mechanical assemblies. Read more in our case study, How MCL Minimized a Customer's Production Delays. Click the button below to download your free copy.